SUMMARY
The Taliban have taken control of the last major city outside Afghanistan's capital Kabul, as the group races closer to a complete takeover of the country.
Here is the latest:
– The Taliban said they have no plans to take the Afghan capital "by force." A Taliban spokesman said they had been ordered not to enter the city, reported AFP.
– The group controls all of Afghanistan's border crossings after capturing Torkham.
TIMELINE OF EVENTS(Local Time Afghan):
22:55, 16-Aug-2021
7 people dead in Kabul airport chaos: AP
The chaos at the Kabul airport Monday morning left seven people dead, including some who fell from a departing American military transport jet, the AP reported citing senior U.S. military officials.
Local media earlier reported, citing eyewitnesses that hundreds of people tried to enter planes leaving Kabul forcibly.
22:10, 16-Aug-2021
UN chief urges restraint from all parties on Afghanistan situation
UN Secretary-General Antonio Guterres on Monday urged all parties to practice utmost restraint and protect civilians in Afghanistan.
Guterres made the remarks at the opening of an emergency meeting on Afghanistan held by the UN Security Council, a day after the Taliban captured the country's capital Kabul.
Guterres raised deep concerns over human rights issues as hundreds of thousands civilians fled their homes due to the rapidly evolving situation in Afghanistan.
He called on all parties, the Taliban in particular, to protect civilians, and provide necessary humanitarian assistance. The secretary-general also encouraged countries to receive refugees to avoid a humanitarian crisis.
Amid the situation, Guterres raised two proposals on behalf of the UN.
Firstly, in relation to Afghani women and children, Guterres urged all parties to speak in one voice on human rights in Afghanistan and to ensure the basic human rights of vulnerable groups are respected.
Secondly, he stressed that Afghanistan should not become a platform for terrorism.
Reiterating the UN's commitment to supporting Afghanistan, the Guterres urged all relevant parties in Afghanistan to end violence, ensure protection of human life and property, and commit to all the international treaties signed by the country
21:55, 16-Aug-2021
Taliban spokesperson: Kabul coming under 'full control'
The situation in Kabul city is coming under "full control," Taliban spokesperson Zabihullah Mujahid tweeted on Monday.
According to Mujahid, the Taliban have also arrested most of the people involved in violence in the capital.
"No one is allowed to go to the houses of the former officials, ask for their vehicles or threaten them," he tweeted. "Those people would be prevented from doing these with all seriousness and will seriously be pursued."
20:19, 16-Aug-2021
Afghan military jet crashes in Uzbekistan: report
Uzbek air force shot down an Afghan military jet as it tried to violate the country's border, Uzbekistan's defense ministry told Russia's RIA news agency on Monday.
The aircraft was shot down on Sunday after crossing into Uzbekistan's southern province of Surkhondaryo, bordering Afghanistan. Two pilots ejected and survived, the Uzbek defense ministry was quoted as saying.
"The military plane illegally crossed the border of Uzbekistan. An investigation is underway," ministry spokesman Bakhrom Zulfikarov told reporters earlier, confirming Uzbek media reports.
Zulfikarov said the ministry would prepare a statement on the crash.
Bekpulat Okboyev, a doctor in Surkhondaryo province, told AFP his hospital had taken in two patients who arrived in Afghan military uniforms on Sunday evening.
The doctor described one of the patients came "with a parachute" and noted that the man had suffered fractures.
Central Asia has watched with alarm as Afghanistan's government has collapsed. On Sunday, Uzbekistan said 84 Afghan soldiers had been detained for illegally crossing the border. It was also negotiating with the Afghans over the soldiers' return.
(With input from Reuters, AFP)
18:34, 16-Aug-2021
EU foreign ministers to hold talks on Afghanistan on Tuesday
EU foreign ministers will hold crisis talks via video link on Tuesday on the situation in Afghanistan as European nations continue to evacuate personnel from the country, Josep Borrell, the bloc's High Representative for Foreign Affairs and Security Policy, said on Monday.

"Afghanistan stands at a crossroad. Security and wellbeing of its citizens, as well as international security are at play," Borrell tweeted.
15:56, 16-Aug-2021
Casualties reported in Kabul airport chaos
Casualties were reported as hundreds of people tried to forcibly enter planes leaving Kabul on Monday, local media said citing eyewitnesses.
Shooting was also reported at the airport, according to news outlets.
Citing witnesses, Reuters reported that five people were killed.
It was not immediately clear how the victims died, Reuters added.
5:39, 16-Aug-2021
Russia to evacuate some embassy staff from Afghanistan
Russia will evacuate some of its Afghanistan embassy's roughly 100 staff, Zamir Kabulov, President Vladimir Putin's special representative on Afghanistan, told the Ekho Moskvy radio station on Monday.
5:27, 16-Aug-2021
China says respects Afghan people's choice amid changing situation
The Chinese Foreign Ministry on Monday said the situation in Afghanistan has changed and China respects the Afghan people's will and choice.
Hua Chunying, a spokesperson for the ministry, commented on the latest situation in Afghanistan, saying that China hopes that statements made by the Taliban can be implemented to ensure a smooth transition.
The Taliban said on Sunday evening that there is no danger to embassies, diplomatic missions and foreign nationals in Kabul, pledging that they will maintain security across the country and will announce the establishment of the "Islamic Emirate of Afghanistan" soon, according to media reports.
The war in Afghanistan has lasted for over 40 years, Hua said, stressing that stopping the war and realizing peace is the shared aspiration of the over 30 million Afghan people and the common aspiration of the international community and countries in the region.
We hope all kinds of terrorism and crimes can be curbed so that the Afghan people can stay away from war and rebuild their homeland, Hua added.
When answering a reporter's question about whether China will recognize a Taliban government, the spokesperson said China expects that an inclusive political arrangement that is acceptable to all Afghan people will lay the foundation for lasting peace in the country.
"Based on fully respecting the national sovereignty of Afghanistan and the will of various factions in the country, China has maintained contact and communication with the Afghan Taliban and played a constructive role in promoting the political settlement of the Afghan issue," she said.
China welcomes the Taliban's promise that they will allow no force to use the Afghan territory to engage in acts detrimental to China and its expression of hope that China will be more involved in Afghanistan's peace and reconciliation process and play a bigger role in future reconstruction and economic development, Hua said.
China will continue developing good-neighborly, friendly and cooperative relations with Afghanistan, she added, stressing the importance of adhering to non-interference in Afghanistan's internal affairs and pursuing a friendly policy toward the entire Afghan people.
Meanwhile, the Chinese embassy in Afghanistan is operating normally and China will closely monitor the situation and provide Chinese nationals in Afghanistan with necessary services and help, according to Hua.
14:18, 16-Aug-2021
Commercial flights out of Kabul cancelled
All commercial flights out of the international airport in Kabul have been cancelled, the airport said in a statement on Monday.
14:10, 16-Aug-2021
Taliban say no clashes in Afghanistan one day after capture of Kabul
Taliban officials said on Monday they had received no reports of any clashes from across the country a day after the group took control of capital Kabul.
"The situation is peaceful, as per our reports," a senior member of the Taliban said.

"The general public is happy with the arrival of the Mujahideen and satisfied with the security," Taliban spokesperson Zabiullah Mujahid tweeted on Monday.
08:15, 16-Aug-2021
U.S. forces to take over air traffic control at Kabul airport
The U.S. forces will take over air traffic control at Kabul airport, in addition to expanding security there, the U.S. Departments of State and Defense said in a joint statement Sunday.

"Tomorrow and over the coming days, we will be transferring out of the country thousands of American citizens who have been resident in Afghanistan, as well as locally employed staff of the U.S. mission in Kabul and their families and other particularly vulnerable Afghan nationals," said the statement.
07:26, 16-Aug-2021
Taliban return to power in Afghanistan, say real test begins now
One of the Taliban's most senior officials on Sunday declared that the movement's swift victory over the Afghan government was an unrivaled feat but that the real test of governing effectively would begin now that it had won power.
In a brief video statement, Abdul Ghani Baradar, the head of the Taliban's political bureau, said the victory, which saw all of the country's major cities fall in a week, was unexpectedly swift and had no match in the world.
However, he said the real test would begin now with meeting the expectations of the people and serving them by resolving their problems.

Read more:

Live updates: Taliban enter Kabul as Ghani leaves Afghanistan

Special coverage: Afghan tension in process

The Taliban returned to power in Kabul on Monday after a military advance across Afghanistan as U.S-led forces departed and Western nations stepped up efforts to evacuate their citizens from the capital.

Afghan President Ashraf Ghani fled the country on Sunday as Taliban fighters entered the city, saying he wanted to avoid bloodshed.

A Taliban spokesman said the war is over and the Afghan people will soon learn what form the new government will take.

(With input from Reuters)
07:24, 16-Aug-2021
Taliban confirms no danger to embassies, foreign nationals in Kabul
Muhammad Naeem, a spokesman for the Taliban's political office in Qatar's capital Doha, stressed on Sunday evening that there is no danger to embassies, diplomatic missions and foreign nationals in the Afghan capital Kabul, pledging that the Taliban will maintain security across the country.
"We assure all embassies, diplomatic missions, institutions and residences of foreign nationals in Kabul that there is no danger to them," Naeem said on his Twitter account.
He stressed that the forces of the Taliban movement are tasked with maintaining security in Kabul and other cities in the country
06:53, 16-Aug-2021
UN Secretary-General issues 'concerned' statement on Afghanistan
The United Nations Secretary-General Antonio Guterres said in a statement Sunday that he is deeply concerned with the "rapidly evolving situation in Afghanistan".
Guterres urges "the Taliban and all other parties to exercise utmost restraint in order to protect lives and ensure that humanitarian needs can be addressed".
There has been a massive exodus of Afghan civilians from the city of Kabul. "There continue to be reports of serious human rights abuses and violations in the communities most affected by the fighting," the statement said.
The need for protection of women and girls was highlighted in the statement, which called on the Taliban to, "ensure that international humanitarian law and the rights and freedoms of all people are respected and protected".
The Taliban says it will ensure the safety of all diplomats and citizens and is ready to deal with the concerns of the international community through dialogue.
The UN Secretary-General announced he will address the Security Council Monday on Afghanistan's deteriorating situation
04:55, 16-Aug-2021
UN Agencies Pledge to Remain in Afghanistan Despite Challenges
United Nations agencies pledge to remain in Afghanistan despite the challenges. The U.N Office for the Coordination of Humanitarian Affairs says the U.N. has been in Afghanistan uninterrupted for 70 years and it has every intention to stay to help those who need it most.
There are about 300 U.N. staff members in Afghanistan. And, they have coordinated much of the humanitarian assistance provided by more than 150 U.N. and non-governmental agencies to eight million Afghans this year.
The Humanitarian Affairs Office says it will engage with anyone, including the Taliban, to serve those in need, and its role is based on the core principles of neutrality and impartiality.
The U.N. Refugee Agency is providing food, shelter, hygiene, and other aid to some 400,000 Afghans newly displace this year. The U.N.'s World Food Program is increasing food assistance to nine million acutely hungry Afghans this year.
An urgent meeting on developments in Afghanistan is being coordinated by the U.N. Security Council.
23:41, 15-Aug-2021
Taliban enter Afghan presidential palace: Reuters
The Taliban on Sunday entered the presidential palace in the Afghan capital Kabul, Reuters has reported citing two senior commanders from the group.
23:36, 15-Aug-2021
President Ghani leaves Afghanistan as Taliban move on Kabul
Afghan President Mohammad Ashraf Ghani has left the country, local TV channel Tolo News TV reported on Sunday. The report came as the Taliban ordered its members to enter Kabul.
Zabihullah Mujahid, a Taliban spokesman, tweeted that as the Kabul police abandoned the district police stations, the Taliban will enter the city to provide security for the people and ensure law and order.
No government official was available to comment.
23:34, 15-Aug-2021
Top peace official describes Ghani as Afghanistan's former president
Top Afghan peace official Abdullah Abdullah described Ashraf Ghani as Afghanistan's former president in a video message on Sunday.

He blamed Ghani for the current situation in Afghanistan, hours after Taliban entered the capital Kabul.

Two Taliban officials told Reuters on Sunday there would be no transitional government in Afghanistan and that the group expects a complete handover of power.
22:36, 15-Aug-2021
Afghan crisis: Comparing military capabilities of govt, Taliban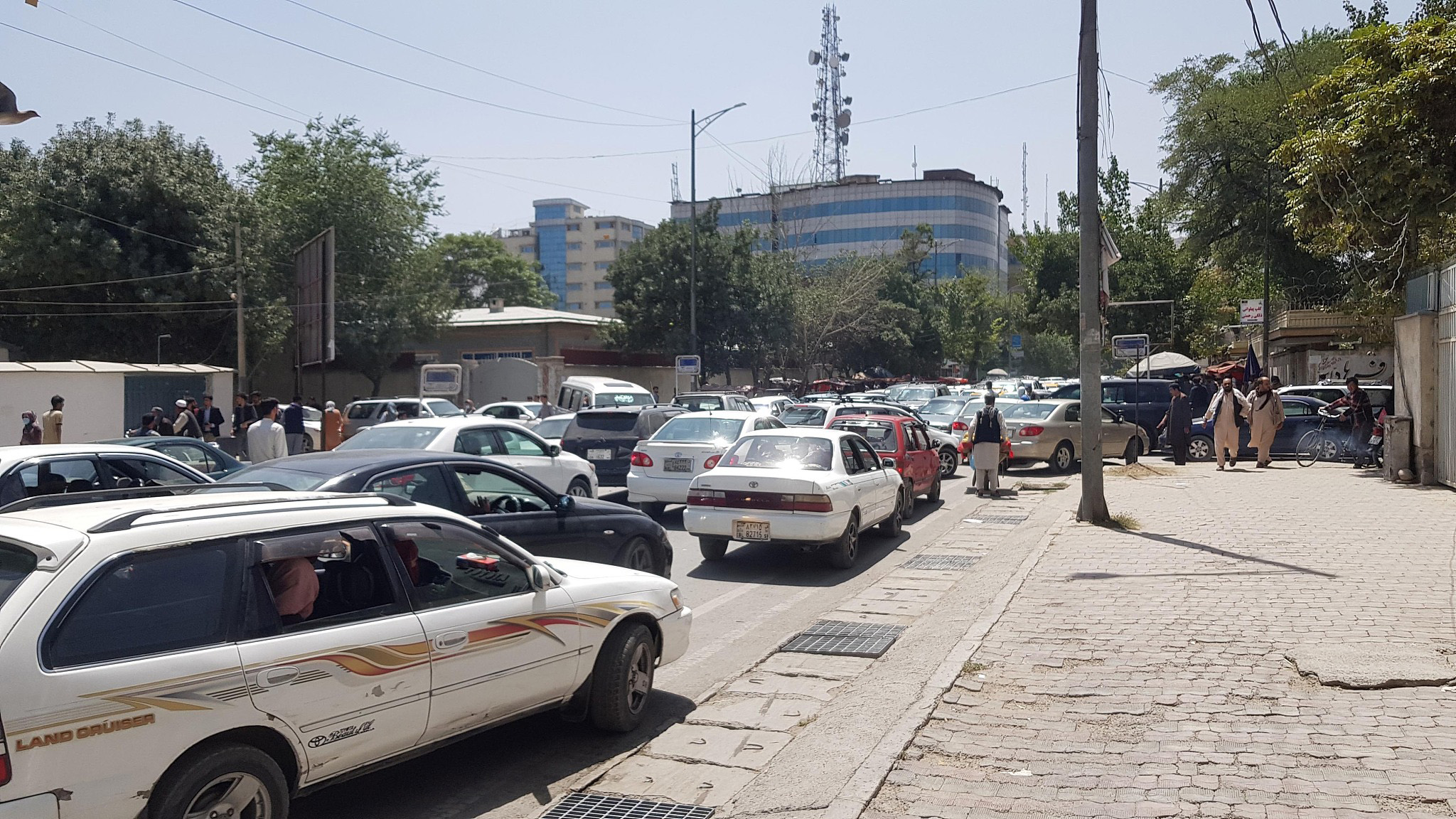 The Taliban's rapid gains and entry into Kabul have taken many by surprise. Afghan government forces should have had the upper hand in terms of service personnel and weaponry, but they collapsed in the face of a group who were better organized. Here's how their strength compared.
22:27, 15-Aug-2021
Chinese embassy urges Afghan parties to ensure nationals' safety
The Chinese Embassy in Afghanistan said on Sunday it has asked different Afghan parties to ensure the safety of Chinese citizens, institutions and interests in the country.
In a statement, the embassy said there have been no reports of casualties of Chinese citizens in the country and urged its nationals to follow the security situation closely.
22:16, 15-Aug-2021
Taliban order members to enter Kabul spokesman
The Taliban have ordered members to enter the Afghan capital Kabul, according to the group's spokesman.
21:40, 15-Aug-2021
Afghan President Ghani leaves the country: TOLO News
Afghan President Ashraf Ghani has left the country, reported TOLO News on Sunday, hours after the Taliban surrounded the capital Kabul.
Reuters also reported that Ghani has "left for Tajikistan," citing a senior interior ministry official
Asked for comment, the president's office said it "cannot say anything about Ashraf Ghani's movement for security reasons," according to Reuters.
A representative of the Taliban said the group was checking on Ghani's whereabouts.
Other reports have indicated that the president had agreed to resign.
According to Russian news agency RIA, Ghani has agreed to stand down. Earlier, Sputnik news agency reported that the president would step down in the "coming hours" amid a peaceful transfer of power.
There has been no official confirmation so far.
21:24, 15-Aug-2021
Experts weigh in on current situation in Afghanistan
The Taliban have claimed the full takeover of key Afghan cities, except Kabul. CGTN invited Wang Jin, associate professor of Middle Eastern Studies at Northwest University of China, and Pavel Felgenhauer, a defense analyst based in Moscow, to share their insights.
21:03, 15-Aug-2021
Afghan delegation to meet Taliban in Qatar on Sunday: Reuters
An Afghanistan government delegation, including senior official Abdullah Abdullah, will travel to Qatar on Sunday to meet with representatives of the Taliban, reported Reuters citing an Afghanistan negotiator.

Fawzi Koofi, a member of the Kabul negotiating team, confirmed to Reuters the delegation would meet with the Taliban in the Gulf state.

The agency also reported that the two sides would discuss a transition of power, adding that U.S. officials would also be involved.
20:44, 15-Aug-2021
Evacuation of U.S., Germany staff in Kabul underway
The U.S. plans to completely pull all personnel from its embassy in Kabul over the next 72 hours, reported CNN.

Germany's army is also sending A400M transport aircraft to Kabul to evacuate embassy staff and their Afghan helpers as Taliban fighters surround the Afghan capital, Bild am Sonntag reported.
20:27, 15-Aug-2021
Afghan President Ghani urges government forces to maintain Kabul security
Afghan President Ashraf Ghani urged government forces Sunday to maintain security in Kabul, after the Taliban paused their sweeping advance on the outskirts of the capital, causing widespread panic, AFP has reported.
"It is our responsibility and we will do it in the best possible manner. Anyone who thinks about chaos, plunder or looting will be tackled with force," he said in a video released to media, according to AFP.
20:01, 15-Aug-2021
Taliban say they want peaceful transition in Afghanistan in next few days
A Taliban spokesperson said the group wants a peaceful transition of power in Afghanistan in the next few days, according to Reuters on Sunday.

Afghan President Ashraf Ghani was meeting with the Taliban in the presidential palace, a CMG reporter reported earlier.
19:00, 15-Aug-2021
Ali Ahmad Jalali may head interim Afghan administration: report
Ali Ahmad Jalali, a U.S.-based academic and former Afghan interior minister, is likely to be named to head an interim administration in Kabul, reported Reuters citing three diplomatic sources on Sunday.

It was not immediately clear whether the Taliban had given their final agreement to Jalali's appointment but he was seen as a potentially acceptable compromise figure to oversee the transition of power, the sources said.
18:25, 15-Aug-2021
Ghani meets with Taliban in Presidential Palace
Afghan President Ashraf Ghani is meeting with the Taliban in Afghanistan's Presidential Palace on Sunday.
17:46, 15-Aug-2021
Afghan acting Interior Minister: Transition to happen 'peacefully'
Afghan acting Interior Minister Abdul Sattar Mirzakwal said Kabul would not be attacked and the "transition" will happen peacefully, TOLO News reported on Sunday.

He also assured that security forces will ensure the security of the city.
01:1917:33, 15-Aug-2021
Taliban say in talks with Afghan government to enter Kabul peacefully
The Taliban are in talks with the Afghan government in order to enter Kabul peacefully, Taliban spokesman Zabihullah Mujahid said in a statement on Sunday.
15:43, 15-Aug-2021
Taliban say they have no plans to take Kabul 'by force'
The Taliban have no plans to take the Afghan capital "by force," a spokesperson said in a statement on Sunday.
Taliban fighters took Jalalabad, near a major border crossing with Pakistan, earlier on Sunday, leaving Kabul as the last major city under government control.
There are conflicting reports on the situation in the Afghan capital.
Citing the Afghan Interior Ministry, Reuters reported that the Taliban have started entering Kabul "from all sides."
Meanwhile, a spokesman for the Taliban said that fighters were ordered Sunday to wait at the gates of Kabul and not enter the city, an insurgent spokesman said, after the complete collapse of the country's security forces.
"Core" U.S. team members were working from Kabul airport, Reuters reported citing a U.S. official, while a NATO official said several EU staff had moved to a safer, undisclosed location in the capital.
10:40, 15-Aug-2021
Taliban claim control over Afghanistan's Jalalabad
The Taliban have gained control over Afghanistan's Jalalabad, the country's fifth largest city, the Taliban spokesman Zabihullah Mujahid said on Twitter on Sunday.
03:09, 15-Aug-2021
Taliban capture Afghan government's last northern stronghold
Displaced Afghans from the northern provinces are evacuated from a makeshift IDP camp in Share-e-Naw park to various mosques and schools in Kabul, Afghanistan. /Getty Images
Afghanistan's fourth-largest city and the government's last northern stronghold fell to the Taliban on Saturday, according to report by several news outlets.
A report by Reuters quoted the head of the Balkh provincial council, Afzal Hadid, confirming that Mazar-i-Sharif had been captured adding that all security forces had left the major city.
"The Taliban have taken control of Mazar-i-Sharif," Hadid said, according to Reuters.
The rapidly destabilizing situation in Afghanistan led the administration of U.S. President Joe Biden to announce that it would be deploying troops to the country's capital Kabul this weekend to help evacuate embassy staff.
At the same time, the first UK troops began deploying to Afghanistan to assist in the evacuation of UK nationals who remain in the country.
An estimated 600 troops are expected to participate in the operation, which will also help with the relocation of Afghans who face reprisals from the Taliban for their collaboration with Western forces.
The Taliban now holds more than half of the nation's 34 provincial capitals and controls more than two-thirds of the country with government resistance crumbling.
(With input from agencies)
00:52, 15-Aug-2021
Taliban seize Afghanistan's eastern Paktika provincial capital Sharan city
Taliban militants captured Sharan city, the capital of eastern Paktika province on Saturday, the head of the provincial council Bakhtiar Gul Zadran said.
"Sharan fell to the Taliban this morning and at the moment all Paktika province is under Taliban control," Zadran told Xinhua.
All officials of the province have gone to a military base, the official said without providing more details.
A day earlier on Friday, the Taliban captured Logar province with Pul-e-Alam as provincial capital, 60 km south of Kabul.
A Taliban spokesman Zabihullah Mujahid also confirmed that the Taliban is in control of Sharan city.
With the fall of Sharan city, the number of provincial capitals captured by the armed group has reached 19 in the country's 34 provinces.
22:08, 14-Aug-2021
Tragedy in Saigon, farce in Kabul
Editor's note: Radhika Desai is a professor of political studies at the University of Manitoba in Canada. The article reflects the author's opinions and not necessarily the views of CGTN.
As President Joe Biden scrambles to get U.S. personnel out of Kabul before it falls to the Taliban, the media resound with Saigon analogies. In 1975, the U.S. had to conduct the largest helicopter evacuation to save its personnel from the advancing North Vietnamese. The analogy evokes Karl Marx's words, "Georg Wilhelm Friedrich Hegel remarks somewhere that all great world-historic facts and personages appear, so to speak, twice. He forgot to add: the first time as tragedy, the second time as farce."
The U.S.'s Vietnam tragedy unfolded from the contradictions of a self-deluding, vainglorious and irresolute imperial state defeated by a proud people whose resolution it is quite unable to fathom and whose heroism it is unable to match. The humiliation of Vietnam has weighed on every U.S. president since. Ronald Reagan invaded Grenada and declared "Our days of weakness are over. Our military forces are back on their feet and standing tall." George H. W. Bush invaded Iraq, failed to overthrow Saddam Hussein and declared nevertheless that "The ghosts of Vietnam have been laid to rest beneath the sands of the Arabian desert." However, leaving aside the 800-pound-Gorilla-against-tiny mouse "victory" in Grenada, failure has been the usual outcome of U.S. military ventures and Afghanistan is the ultimate failure.
The Taliban, whom the U.S. has been fighting since 2001, emerged out of the very Islamic fundamentalist mujahedeen that the U.S. recruited, trained and funded to fight the Soviets in Afghanistan. Ironically, the Soviet-supported government is likely to remain the most progressive in Afghan history for some time to come. As the Taliban overran Afghanistan after the Soviets withdrew, the U.S. encouraged Pakistani support for them because it hoped that a Taliban government would agree to build pipelines to bring Central Asian oil to world markets.
That fell through and the U.S. claimed on September 11, 2001, that the events of that day were organized by Osama bin Laden who was hiding with the Taliban in Afghanistan and demanded the Taliban hand him over. The Taliban demanded proof of his involvement, the U.S. dismissed the demand (and much mystery still surrounds those events) and invaded.
However, though the U.S. could foist the pressure on Afghans, it could not stabilize the Karzai government and by about 2005, it was clear there would be no victory. The war has gone on nevertheless and the reasons are simple and frightening.
The U.S. does not fight wars for clear objectives. It routinely lies about its motivations for war. Everyone knows the hypocrisy of its claims about saving Afghan women (presumably from Afghan men) and promoting democracy. The fact is, for U.S. administrations, wars are like gift-filled Christmases for their giant military industrial complex. Producers of arms and military goods and services get a bonanza of contracts, as do contractors that provide related goods and services, including mercenaries, in the U.S. and in the war theater. Additionally, other U.S. corporations benefit from "reconstruction" contracts, opportunities for risk-free profit in occupied territory.
Therefore, though the cost and unpopularity of the wars mean that every president is elected on a promise to stop them, they fail to keep it. How can they in the face of the opposition of these powerful business lobbies? Inevitably, presidents succumb, all the more easily as congress exercises little or no oversight.
The cost and unpopularity did force President Donald Trump at least to initiate talks with the very Taliban that lofty U.S. rhetoric had demonised for two decades. A U.S. withdrawal was agreed.
Biden continued this process and even brought forward U.S. withdrawal. However, he had not reckoned on two things. First, that the U.S.-supported Ghani government had become so unpopular that the Taliban could take over the country with astonishing speed once U.S. and other western troops withdrew. Secondly, that the U.S.-trained and equipped Afghan army would not only crumble before the Taliban, but also go over to its side in so many cases.
The U.S. leaves behind a destroyed country deeply divided by its occupation. The government is supports will likely fall soon and the fate of the Afghan people will depend on the very fundamentalist forces the U.S. created and then fought so fruitlessly. There is a tiny glimmer of hope that decades of guerilla actions requiring the support of ordinary Afghans has softened the edge of the Taliban's fundamentalism. However, we have to see it to believe it.
Finally, the Biden administration certainly intended to keep up the dishonorable U.S. tradition of never leaving entirely, always leaving at least "advisors," contractors and the CIA. Biden certainly wanted to, if only to make Afghanistan a staging post for U.S. attempts to destabilize China via Xinjiang Uygur Autonomous Region. But, can he, if a deeply hostile Taliban takes over?
Credit & Publication: CGTN. Published: August 15th 2021. Source Link: https://www.cgtn.com/special/Taliban-say-they-have-no-plans-to-take-Kabul-by-force-.html